Monday, 10 July 2017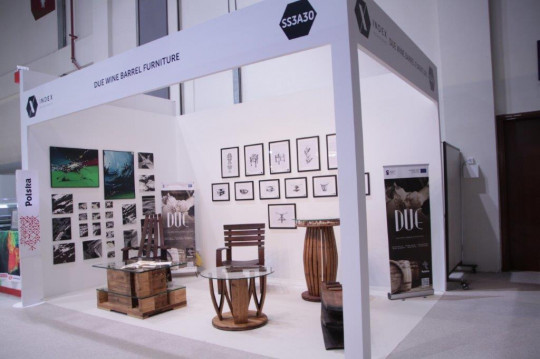 It is a photograph of the DUE booth at the fairs in Dubai. It covers 15 m2. Small is beautiful! The DUE emblem was "wine barrel furniture". It was clear, although DUE makes furniture of old wood as well.
The walls are covered with graphics of DUE realisations, and a DUE designer's pastels are on the left side.
The DUE booth was visited by about 150 people, including 100 natural persons, in particular residents of Dubai. About 50 guests were representatives of various companies, most often interior design companies. So the fair statistics were good. DUE's pre-Dubai target was 100 guests.
DUE premiered its realisations at the main international fairs. As with every premiere, it felt a bit stressful, since collections and design concepts were subject to rating. Who can rate a furniture collection reliably? Certainly, interior designers' verdicts may be conclusive. After all, not hairdressers' and cooks' verdicts – it is obvious. Nevertheless, contemporary hairdressers and cooks are somewhat designers in their fields.
Interior designers' verdict was unanimously positive. None of them was against. They stressed the courage and originality of material and form. Realisations' carpentry technique was faultless which was not left unnoticed. Product uniqueness is an important feature, especially if this originality is constructive. Such features were raised by guests of the DUE exhibition. They did not spare praise.
Let us introduce the realisations presented at the INDEX Fairs 2017.